On Saturday, I explored Youngstown by going for a run. It took me into Niagara State Park, which was cool because I was running in the US but could clearly hear church bells from Canada.

When I came back, E helped me stretch. You can get a sense of our room in this self portrait!




Self explanatory?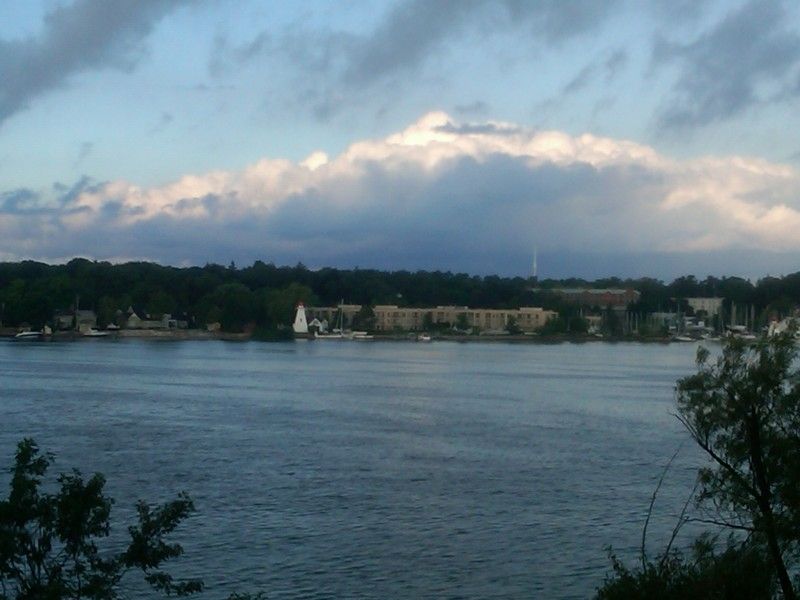 Niagara-on-the-Lake from the State Park
After my run and breakfast and a little bit of park time, we met with J and S to go to Canada.
I've never been to Canada, so this was a new experience for the boys and for me. We got up early and had breakfast in Youngstown at the
Village Diner
. It was pretty standard breakfast fare, though they were great with the boys and we had a great view of the river, Lake Ontario, and were even able to catch a glimpse of Toronto out the windows.
We waited a LONG time to cross into Canada via the Lewiston-Queeston Bridge, but our first border crossing was a pleasant one; the customs officer asked pretty basic questions (so we were unprepared for our other three crossings, which had much shorter waits) and we were in Canada!
E was VERY excited to go to a new country for the first time.
We also went to check out The Floral Clock; we'd driven by so I thought it would be nice to have a picture since it was so close. The boys stayed in the car, but J and I went to check it out.
Next, we needed some lunch. We drove around looking for a place to eat; I'd heard great things about Niagara-on-the-Lake from friends, so thought that would be a great place to eat, but there was a festival going on so finding parking was pretty impossible. We stumbled across
The Little Red Rooster Family Restaurant
, and had a good meal!
With fortified bellies, we headed on to Niagara Falls. M described the area so accurately when he compared it to Pleasure Island in Disney's
Pinocchio.
There was so much to see, so much to do, and so many ways in which to spend money! First, we walked to the Hard Rock Cafe, and then on to see the Falls.
Tim Horton's is a Canadian Dunkin Donuts type place, though they have a much more extensive lunch menu. I'd heard of them and pretty much needed to try their coffee. It was (phrase of the trip) bangin. Totally wished I'd gone for the medium.
While J, S, and I were in Timmy Ho's (as I called it in my mind), A told M he wanted to "buy something or do something or eat something." As we were walking around, it started to drizzle, which turned into a rain. We were standing outside what looked like an awesome thing to do, glow in the dark mini golf, but I really thought this would take a long time on a day we had a lot to do and we ultimately didn't do it. But a dinosaur caught A's eye. We walked around for awhile trying to figure out what he meant, and it turns out he saw a dinosaur place that was a kid's playland!
We were pretty tired at that point so went back to the room.
Pizza Rolls
But wait, there's more! J lined up a babysitter for us, so we fed the boys, put them to bed, and went out on the town in Youngstown! We checked out the Yacht Club,
Bandana's
for dinner (where we discovered something called Pizza Rolls--basically a won ton wrapped mozzarella stick that is deep fried and served with marinara sauce. So good!), and on to
Brennan's Irish Pub
.
We had a great day and a fun night! Clearly, we tuckered the dudesicles out!